Did you guys know that this blog is less than 7 months old? It's hard to believe that in 7 months Traci and I have come this far. I recently signed up for a blogging course put on by Amy from One Artsy Mama. She's designed a course with each week focusing on a different blogging topic. We started off with goals and now we're half way through and reflecting on how far we've come so far. I have to say that the biggest thing I've been able to fix is my photography skills. I thought I was doing okay, but after applying a few tips she's given me, my pictures look SO much better, which makes a HUGE difference in blogging.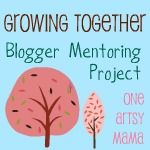 One thing we did at the first of the class was outline a few goals. One of my goals was the have a blog layout that I love. That is why this layout has changed so many stinking times in the last few weeks. I'll have you all know though that that goal is checked off. I love this layout that I have now. I'm so happy with it.
It's been so fun to learn all this blogging stuff and get to know the other bloggers in the group. I feel like it's helped me get close to some ladies that I never would have "met" otherwise. And blogging is all about who you know, ya know!
Anyway, I love blogging. I love that it gives me a place to express myself. I love that there is so much to learn about blogging. It gives me something to do when my kids are sleeping. It gives me a place to be me, Markell, not Mom or Wife. It gives me fun things in the mail once in awhile. It gives me people to talk to. While I know that there are SO many things that are way more important that this blog in my life, I am grateful for it and I'm grateful to all my awesome readers. It's so neat that people actually want to read what I have to say. Thanks guys! And thanks, Amy, for putting together this class 🙂
I highly recommend this class to anyone looking to learn more about the blogging world. Best $35 I've spent on blogging, by far.
Share